Last updated 02 January 2017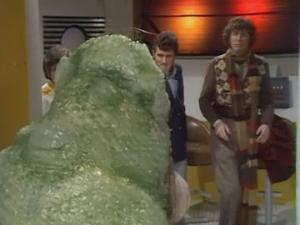 Broadcast: Saturday 10th June 2000
6:00pm-6:30pm PDT
(01:00 GMT)
<
>
«
»
KBTC
Featuring: Tom Baker, Ian Marter, Elisabeth Sladen, Kenton Moore, Wendy Williams
The Doctor subjects himself to a dangerous experiment so that he can access the memories of the dead Wirrn Queen. Elsewhere, the larvae Wirrn are pupating into their adult form.
Synopsis Source: Doctor Who Guide
Broadcast Source: TWIDW
Report from the This Week in Doctor Who Archive:
Friday 9th June 2000:
KBTC/KCKA 28, 15 Tacoma/Centralia, WA
http://www.kbtc.org/
Sat 6PM PDT The Ark In Space eps 3+4 of 4
The Wirrn plan to use the knowledge of humanity they've absorbed from their human victims to wipe out the species. The closest thing ever to a competent argument for dumbing down education. Sat 7PM PDT
The Sontaran Experiment
both eps The Doctor can't get any breaks. He can't even show up on Earth when it's abandoned without getting into trouble. Ok, it's not fully abandoned, but it's supposed to be. Pledge drive night. No late night reruns.