Last updated 02 January 2017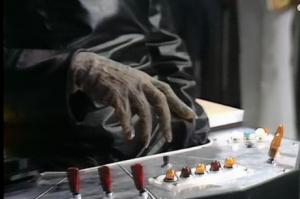 Broadcast: Sunday 13th June 1999
1:00am-1:30am PDT
(08:00 GMT)
<
>
«
»
KBTC
Featuring: Tom Baker, Ian Marter, Elisabeth Sladen, Peter Miles, Michael Wisher
The Doctor finds that some of Davros's fellow Kaleds are unhappy with the development of the Daleks. Sarah is forced to load a Thal war rocket with radioactive explosives.
Synopsis Source: Doctor Who Guide
---
Broadcast notes:
Time approximated, shown as part of a pledge night between 12:30am and 4:00am.
Broadcast Source: TWIDW