Last updated 02 January 2017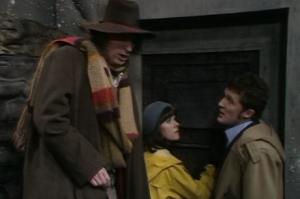 Broadcast: Saturday 12th June 1999
7:00pm-7:30pm PDT
(02:00 GMT)
<
>
«
»
KBTC
Featuring: Tom Baker, Ian Marter, Elisabeth Sladen, Peter Miles, Michael Wisher
The Time Lords send the Doctor, Sarah and Harry to Skaro at a point in time shortly before the creation of the Daleks. The Doctor's mission is to destroy his greatest enemy.
Synopsis Source: Doctor Who Guide
---
Broadcast notes:
Time approximated, shown as part of a pledge night between 7:00pm and 11:30pm.
Broadcast Source: TWIDW
Report from the This Week in Doctor Who Archive:
Friday 11th June 1999:
*
KBTC / KCKA 28, 15 Tacoma, WA
(Seattle)
Saturday at 6 and 11:30PM PDT Terror of the Autons episodes 3 and 4 of 4
Saturday at 7PM and 12:30AM PDT Genesis of the Daleks either movie or all 6 episodes
Pledge season at KBTC means that
Doctor Who
gets a whole night to itself. Start times are approximate. The first broadcast of Genesis has been given 4 ½ hours, and the rerun has been given 3 ½ hours. The Who night is scheduled to end at 4AM.