Last updated 02 January 2017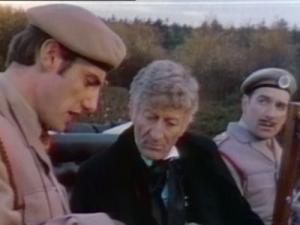 Broadcast: Saturday 3rd April 1999
7:00pm-7:30pm PST
(03:00 GMT)
«
»
KBTC
Featuring: Jon Pertwee, Nicholas Courtney, Caroline John, Fulton Mackay, Peter Miles
The creature from the caves, wounded and dangerous, is on the loose on Wenley Moor. Dr Quinn attempts to recover it and is unwilling to listen to the Doctor's warnings.
Synopsis Source: Doctor Who Guide
Broadcast Source: TWIDW
Report from the This Week in Doctor Who Archive:
Friday 2nd April 1999:
KBTC / KCKA 28, 15 Tacoma, WA
Saturday at 7PM and 12:30AM PST, Monday at 7:30PM and 12:30AM PDT
Doctor Who And The Silurians episodes 3 and 4 of 7
Doctor Quinn, man of medicine, has made contact with the Silurians, intelligent reptiles who have lived in suspended animation for many years. Can the Doctor complete Quinn's first contact before the Silurians and the humans learn of each other and start shooting.