Last updated 02 January 2017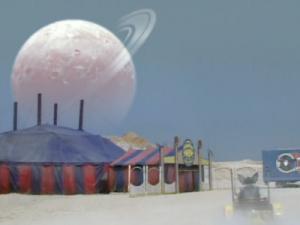 Broadcast: Saturday 2nd January 1999
7:00pm-7:30pm PST
(03:00 GMT)
<
>
«
»
KBTC
Featuring: Sylvester McCoy, Sophie Aldred, Christopher Guard, Jessica Martin, T P McKenna, Peggy Mount, Gian Sammarco
Bellboy and Flowerchild escape the Psychic Circus but are pursued by the Chief Clown. The Doctor and Ace meet other visitors to Segonax, some of whom are not what they seem...
Synopsis Source: Doctor Who Guide
Broadcast Source: TWIDW
Report from the This Week in Doctor Who Archive:
Friday 1st January 1999:
KBTC / KCKA 28, 15 Tacoma, Washington
Saturday at 7PM, Monday at 7:30PM and 12:30AM - The Greatest Show in the Galaxy - episodes 1 and 2 of 4
A stubborn piece of junk mail infiltrates the TARDIS and convinces the 7th Doctor and Ace to visit a famous intergalactic circus. This could be a deadly mistake. Note the earring that Ace picks up in this story that she wore in the previous story. The story order was changed at the last minute that year due to the Olympics and Doctor Who's 25th Anniversary.