Last updated 02 January 2017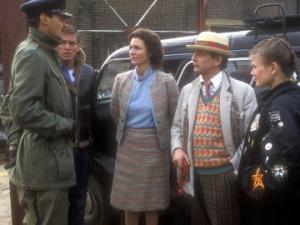 Broadcast: Saturday 28th November 1998
7:00pm-7:30pm PST
(03:00 GMT)
<
>
«
»
KBTC
Featuring: Sylvester McCoy, Sophie Aldred, Dursley McLinden, Pamela Salem, Simon Williams
In Shoreditch, 1963, the Doctor's past begins to catch up with him… At the Totter's Lane junkyard where his adventures began, an old terror is returning.
Synopsis Source: Doctor Who Guide
Broadcast Source: TWIDW
Report from the This Week in Doctor Who Archive:
Friday 27th November 1998:
KBTC / KCKA Tacoma, Washington
- channels 28, 15
Saturday at 7PM and 12:30AM, (No Monday broadcasts) - Remembrance of the Daleks - episodes 1 and 2 of 4
The 7th Doctor and Ace arrive in London in 1963, just in time to meet a Dalek invasion. But the Daleks are being somewhat more subtle this time, like they want to get something without being noticed. And there appears to be two Dalek factions. No Monday broadcasts due to pledge programming.