Last updated 02 January 2017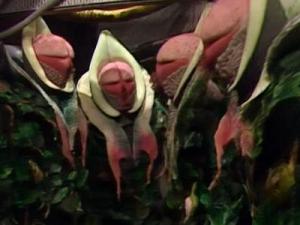 Broadcast: Saturday 26th September 1998
7:00pm-7:30pm PDT
(02:00 GMT)
<
>
«
»
KBTC
Featuring: Colin Baker, Bonnie Langford, Lynda Bellingham, Honor Blackman, Michael Craig, Denys Hawthorne, Michael Jayston
The Commadore loses command of his ship as Bruchner takes over the bridge, intending to send the Hyperion III into the black hole of Tartarus to destroy the Vervoids forever.
Synopsis Source: Doctor Who Guide
Broadcast Source: TWIDW
Report from the This Week in Doctor Who Archive:
Friday 25th September 1998:
KBTC 28 in Tacoma, Washington
will air episodes 11 and 12 of "Trial Of A Time Lord" four times this weekend. (These episodes are also known as parts 3 and 4 of
Terror Of The Vervoids
.) The 6th Doctor's evidence of his behavior in the future isn't helping very much. He insists that the evidence has been tampered. He better be right, considering what happens when he agrees to stop the Vervoids.
Watch these episodes Saturday at 7PM and 12:30AM, and Monday at 7:30PM and 12:30AM.