Last updated 02 January 2017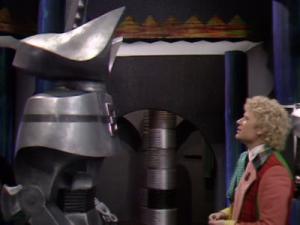 Broadcast: Saturday 29th August 1998
7:30pm-8:00pm PDT
(02:30 GMT)
«
»
KBTC
Featuring: Colin Baker, Nicola Bryant, Lynda Bellingham, Tom Chadbon, Michael Jayston, Tony Selby, Joan Sims
The Doctor is foxed by Drathro's logic so it takes Glitz's blunt lies to buy them some time until Ravolox can be saved. Meanwhile the Tribe make a foolhardly attack on Marb Arch.
Synopsis Source: Doctor Who Guide
Broadcast Source: TWIDW
Report from the This Week in Doctor Who Archive:
Friday 28th August 1998:
KTBC / KCKA 28 / 15 Tacoma, Washington
offers viewers episodes 3 and 4 of
Trial Of A Time Lord - The Mysterious Planet
this weekend. The Valeyard presents more of his case against the 6th Doctor, reviewing a recent adventure on the planet Ravalox. I have to agree with the Doctor's assessment of the Valeyard's choice of evidence this time. The Doctor is reacting to problems the whole time, focusing on escaping alive and saving other peoples' lives. And some of the "evidence" presented here comes back to haunt someone later in the trial. Peri appears in the trial footage, but is still noticeably absent at the trial.
These episodes will air at 7PM Saturday, with a rerun at 12:30AM that night. The Monday broadcasts are still being pre-empted.