Last updated 02 January 2017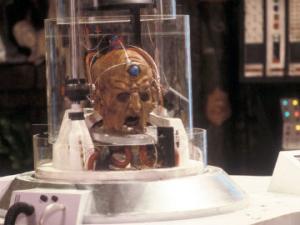 Broadcast: Saturday 15th August 1998
7:30pm-8:00pm PDT
(02:30 GMT)
«
»
KBTC
Featuring: Colin Baker, Nicola Bryant, Eleanor Bron, William Gaunt, Terry Molloy, Alexei Sayle, Clive Swift, Jenny Tomasin
An assassin plots to murder Davros and the Doctor admits to Peri they are in great danger…
Synopsis Source: Doctor Who Guide
Broadcast Source: TWIDW
Report from the This Week in Doctor Who Archive:
Friday 14th August 1998:
KBTC / KCKA 28/15 in Tacoma, Washington
is not including
Doctor Who
among its pledge programming this time. As a result, the Saturday night broadcasts (where they do not appear to be pledging) will air at the normal times, while the Monday night broadcasts will be halted for pledge programming. This Saturday they will air the concluding 2 episodes of a special 4 part version of
Revelation of the Daleks
. The 6th Doctor and Peri learn of grisly goings on in a mortuary, and the identity of "The Great Healer" is revealed. And then, just to muddy the waters, a second group of Daleks appears! An all-star cast headlines this story, and most of them will not make it to the explosive finale. Note: the final word uttered by the Doctor in this story was cut shortly before the original broadcast because it was a direct link to the next season, which had been delayed and the prepared stories canceled. The word was "Blackpool". See this week's episodes
Saturday at 7PM and late night at 12:30AM
.