Last updated 02 January 2017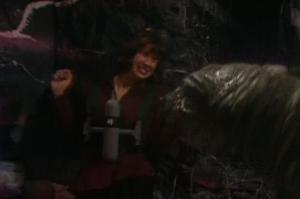 Broadcast: Saturday 1st August 1998
7:30pm-8:00pm PDT
(02:30 GMT)
<
>
«
»
KBTC
Featuring: Colin Baker, Nicola Bryant, David Chandler, Paul Darrow
The Borad accepts no opposition and enables Maylin Tekker to expose the rebels and trap Peri with the Morlox. The Doctor tries to avert a war between Karfel and the Bandrils.
Synopsis Source: Doctor Who Guide
Broadcast Source: TWIDW
Report from the This Week in Doctor Who Archive:
Friday 31st July 1998:
KBTC/KCKA 28/15 Tacoma, Washington
airs the same
Doctor Who
episodes 4 times a week. It seems that people want to see the stories twice, and they rerun their prime time schedule in late night, causing the high number of showings. This week's feature is parts 3 and 4 of a 4 part version of
Timelash
.
See it at 7PM Saturday, 12:30AM late Saturday, 7:30PM Monday, and 12:30AM late Monday
.
{Alert: special notice about KBTC's pledge plans! KBTC/KCKA is going to pre-empt their Monday broadcasts of
Doctor Who
during pledge season, beginning with the 2ndhalf of
Revelation of the Daleks
. The Saturday broadcasts will air at their normal times without pledge interruptions. This is apparently a change from previous drives, where the Saturday broadcasts have been pre-empted and the Monday broadcasts have aired. Thanks to Eric Gjovaag for the information.}