Last updated 02 January 2017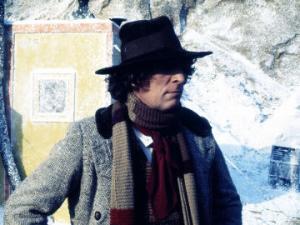 Broadcast: Saturday 4th March 2000
11:00pm MST
(06:00 GMT)
<
>
«
»
KRWG
Featuring: Tom Baker, Elisabeth Sladen, Tony Beckley, John Challis
Learning of an alien seed pod at the Antarctic, the Doctor and Sarah investigate. But they are too late. A man is already turning into a Krynoid.
Synopsis Source: Doctor Who Guide
Broadcast Source: TWIDW
Report from the This Week in Doctor Who Archive:
Friday 3rd March 2000:
KRWG 22 Las Cruces, NM
(El Paso, TX)
http://www.nmsu.edu/~krwgtv/
9PM MST The Brain of Morbius movie
The Doctor and Sarah are invited to dinner and a head-snatching. Well, that's what you get for visiting the home of a mad scientist when it's raining.
Sat 11PM MST The Seeds of Doom movie
In Antarctica, two seed pods are discovered. If allowed to germinate, they have the ability to wipe out all animal life on Earth.