Last updated 02 January 2017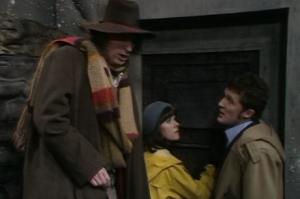 Broadcast: Saturday 26th June 1999
10:30pm-12:00am MDT
(04:30 GMT)
<
>
«
»
KRWG
Featuring: Tom Baker, Ian Marter, Elisabeth Sladen, Peter Miles, Michael Wisher
The Time Lords send the Doctor, Sarah and Harry to Skaro at a point in time shortly before the creation of the Daleks. The Doctor's mission is to destroy his greatest enemy.
Synopsis Source: Doctor Who Guide
---
Broadcast notes:
Originally scheduled as Revenge of the Cybermen, due to production order being followed. The last two parts were erroneously cut off, and instead shown the following week.
Broadcast Source: TWIDW
Reports from the This Week in Doctor Who Archive:
Friday 25th June 1999:
KRWG 22 Las Cruces, NM
http://www.nmsu.edu/~krwgtv/
Saturday at 10:30PM MDT Revenge of the Cybermen movie version
The Ark Arc concludes when the 4th Doctor and company return to the Ark at an earlier point in time, when it serves as a beacon to keep ships from hitting a newly discovered asteroid. The beacon takes on prime importance when it turns out that the asteroid is almost pure gold, the perfect weapon against the Cybermen. And the Cybermen are determined that no one will ever get the chance to use that asteroid.
» The channel realised the running order was wrong and switched this to Genesis of the Daleks instead. However, due to an oversight in the length, the end got chopped off! The last two parts were instead shown the following week before Revenge of the Cybermen.
---