Last updated 02 January 2017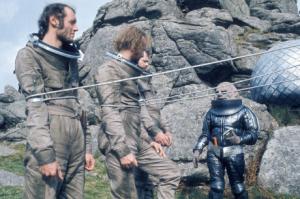 Broadcast: Saturday 12th June 1999
10:30pm MDT
(04:30 GMT)
<
>
«
»
KRWG
Featuring: Tom Baker, Ian Marter, Elisabeth Sladen, Kevin Lindsay
The Doctor, Harry and Sarah find Earth is a desolate wilderness. They meet a group of stranded human colonists who are being hunted by a robot and experimented upon by its master.
Synopsis Source: Doctor Who Guide
Broadcast Source: TWIDW
Report from the This Week in Doctor Who Archive:
Friday 11th June 1999:
KRWG 22 Las Cruces, NM http://www.nmsu.edu/~krwgtv/
Saturday at 10:30PM MDT
The Sontaran Experiment
movie version
< Stories airing in production order. >
After the events in the story you'll get next week, the Doctor, Sarah, and Harry decide to visit Earth for themselves to see if it is finally inhabitable again. Not only is Earth inhabitable, but others have gotten there first.