Last updated 02 January 2017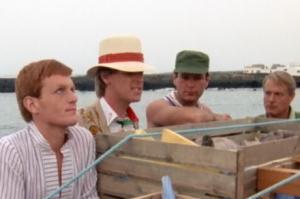 Broadcast: Sunday 26th September 2004
7:00am-9:00am BST
(06:00 GMT)
«
»
UKTV Gold
(adverts during broadcast)
Featuring: Peter Davison, Nicola Bryant, Mark Strickson, Gerald Flood, Edward Highmore, Peter Wyngarde
On the planet Sarn, the truth about the god Logar is being sought, while on Earth, Peri wants a break from her stepfather. But the Master has other plans for everyone...
Synopsis Source: Doctor Who Guide
Resurrection of the Daleks was skipped owing to an embargo on Dalek stories.
Broadcast Source: TWiDW
Report from the This Week in Doctor Who Archive:
Wednesday 22nd September 2004:
UKTV Gold
http://www.ukgold.tv
http://www.onthebox.com/partner/otb
(All times 1 hour later on UKTV Gold + 1)
Saturday 7:05-9AM BST Frontios movie
Series 21, Episodes 7 through 10. Doctor:
Peter Davison
. At the end of time, the survivors of humanity toil away on a new planet. But from underneath, a mysterious presence devours. While from overhead, asteroid bombardments wreck attempts at rebuilding civilization. The Doctor's help is needed. But he is not allowed to intervene.
Sunday 7-9AM BST Planet of Fire movie
Series 21, Episodes 13 through 16. Doctor:
Peter Davison
. Following the events of Resurrection Of The Daleks (not currently available to
UKTV Gold
), the 5th Doctor investigates an alien artefact discovered on Earth. The artefact leads to the planet Sarn, a planet that Turlough seems to understand very well.