Last updated 02 January 2017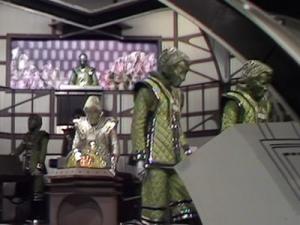 Broadcast: Saturday 14th August 1999
11:00pm-1:30am MDT
(05:00 GMT)
<
>
«
»
New Mexico PBS
Featuring: Tom Baker, Louise Jameson, David Collings, Russell Hunter, Pamela Salem
The TARDIS takes the Doctor and Leela to a huge sandminer on an alien world. One of the crew is killed and the murderer may not be human.
Synopsis Source: Doctor Who Guide
Broadcast Source: TWIDW
Report from the This Week in Doctor Who Archive:
Friday 13th August 1999:
KNME 5 Albuquerque, NM
http://www.knmetv.org/
Sat 11PM MDT The Face of Evil movie
(more likely The Robots of Death)
Time approximate after pledge programs. The Doctor lands on a planet where he is revered as a god and feared as the demon holding the god prisoner. Flattering, but very problematic, what with everyone trying to kill him and such. Keep an eye out for the Horta. I believe we now know which planet the Cybermen invaded to create the Cybermats.