Last updated 02 January 2017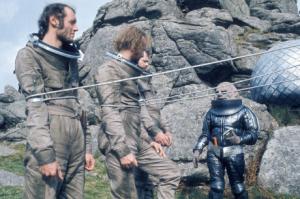 Broadcast: Saturday 31st October 1998
9:00pm-9:25pm EST
(02:00 GMT)
<
>
«
»
Maine Public Broadcasting
Featuring: Tom Baker, Ian Marter, Elisabeth Sladen, Kevin Lindsay
The Doctor, Harry and Sarah find Earth is a desolate wilderness. They meet a group of stranded human colonists who are being hunted by a robot and experimented upon by its master.
Synopsis Source: Doctor Who Guide
Broadcast Source: TWIDW
Report from the This Week in Doctor Who Archive:
Friday 30th October 1998:
Maine Public Broadcasting
- channels 10, 10, 12, 13, 26, 39
Saturday at 9PM - The Sontaran Experiment - both episodes
The 4th Doctor, Sarah, and Harry explore Earth in advance of the return of humans to the planet. But it seems someone else has already set up shop. Someone short, stubby, with a head that looks like a potato. And he's not friendly.