Last updated 02 January 2017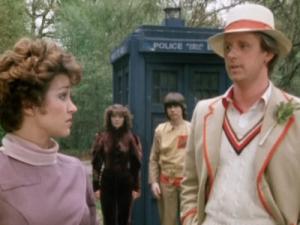 Broadcast: Sunday 22nd November 1998
6:00pm-7:30pm EST
(23:00 GMT)
<
>
«
»
WBTU Indianapolis
Featuring: Peter Davison, Janet Fielding, Sarah Sutton, Matthew Waterhouse, Michael Robbins
The TARDIS lands in 17th century England which is being stalked by a robotic death-like figure. The locals seem to be under a strange mesmeric spell.
Synopsis Source: Doctor Who Guide
Broadcast Source: TWIDW
Report from the This Week in Doctor Who Archive:
Friday 20th November 1998:
WTBU Indianapolis, Indiana
- channel 69
Sunday at 6PM - The Visitation - movie version
The 5th Doctor finally gets Tegan to Heathrow Airport. But 1666 is slightly before the time Tegan requested. That's ok, though. There's an alien invasion to stop before they eliminate humanity. 90 minutes.
WTBU is discontinuing Doctor Who within the next few weeks.