Last updated 02 January 2017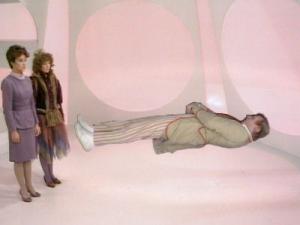 Broadcast: Sunday 1st November 1998
6:00pm-7:30pm EST
(23:00 GMT)
<
>
«
»
WBTU Indianapolis
Featuring: Peter Davison, Janet Fielding, Sarah Sutton, Matthew Waterhouse, Anthony Ainley
The Doctor tries to recuperate within the Zero Room, leaving Nyssa, Adric and Tegan to face the Master. Then Adric is taken and the TARDIS plunges towards Event One...
Synopsis Source: Doctor Who Guide
Broadcast Source: TWIDW
Report from the This Week in Doctor Who Archive:
Friday 30th October 1998:
WTBU Indianapolis, Indiana
- channel 69
Sunday at 6PM - Castrovalva - movie version
The Doctor's 4th regeneration needs help. Thankfully, the TARDIS' Zero Room has the capacity to heal him. This could be very useful, if the TARDIS wasn't flying for catastrophe. Can the new 5th Doctor escape the traps of the Master and complete his regeneration, or will this be the final story? Just a little under 90 minutes.