Last updated 02 January 2017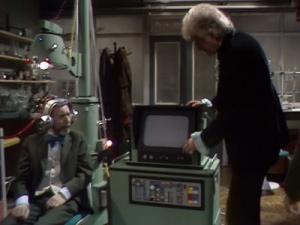 Broadcast: Saturday 1st May 1999
10:25pm-10:50pm CDT
(03:25 GMT)
<
>
«
»
Louisiana Public Broadcasting
Featuring: Jon Pertwee, Nicholas Courtney, Elisabeth Sladen, John Dearth, Richard Franklin, John Kane, John Levene
The Doctor receives a mysterious package from his old companion, Jo Grant. Sarah joins Mike Yates to investigate sinister events at a Buddhist meditation centre.
Synopsis Source: Doctor Who Guide
Broadcast Source: TWIDW
Report from the This Week in Doctor Who Archive:
Friday 30th April 1999:
LPB Louisiana
13, 18, 24, 24, 25, 27
http://www.lpb.org/
Saturday at 10PM CDT The Monster of Peladon episode 6 of 6
Saturday at 10:24?PM CDT Planet of the Spiders episode 1 of 6
In the first episode, the Ice Warriors and Eckersley make a final attempt to take over Peladon, and they don't care who dies in the struggle. Later, the 3rd Doctor receives the Metebelis Crystal back from Jo, who sends a confusing message about it causing problems. Meanwhile, a monestary is influenced by a great evil, and the only person who realizes it is Mike Yates.