Last updated 02 January 2017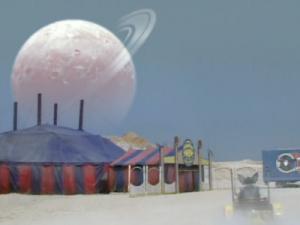 Broadcast: Saturday 26th September 1998
11:00pm-12:40am EDT
(03:00 GMT)
<
>
«
»
WCET
Featuring: Sylvester McCoy, Sophie Aldred, Christopher Guard, Jessica Martin, T P McKenna, Peggy Mount, Gian Sammarco
Bellboy and Flowerchild escape the Psychic Circus but are pursued by the Chief Clown. The Doctor and Ace meet other visitors to Segonax, some of whom are not what they seem...
Synopsis Source: Doctor Who Guide
Broadcast Source: TWIDW
Report from the This Week in Doctor Who Archive:
Friday 25th September 1998:
WCET 48 in Cincinnati, Ohio
airs the movie version of
The Greatest Show in the Galaxy
. Watch one of the cast of the new
"Love Boat"
as the ringmaster! Gasp at the stunts, or what happens when the stunts fail! Beware of "junk mail that talks back"! Meet the mysterious intergalactic explorer and his assistant, Max! Marvel at the time traveling earring that Ace finds for the first time 1 story after wearing it on her jacket! And wonder just what those 3 spectators are there for! Sit right back and enjoy the show
Saturday late night at 11PM
! Any more fares, please?