Last updated 02 January 2017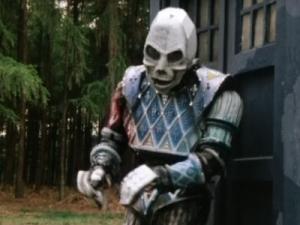 Broadcast: Sunday 15th November 1998
12:35am-1:05am EST
(05:35 GMT)
<
>
«
»
WUSF
Featuring: Peter Davison, Janet Fielding, Sarah Sutton, Matthew Waterhouse, Michael Melia, Michael Robbins
The Doctor discovers more Terileptil criminals in hiding in London. As he battles them, their soliton gas generator explodes, setting the city ablaze...
Synopsis Source: Doctor Who Guide
---
Broadcast notes:
Timing approximated due to Red Dwarf specials broadcast beforehand.
Broadcast Source: TWIDW
Report from the This Week in Doctor Who Archive:
Friday 13th November 1998: WUSF Tampa, Florida

- channel 16

Late Saturday at 12:35AM - The Visitation - episode 4 of 4 Time approximate after

Red Dwarf

specials.

The 5th Doctor, Adric, Nyssa, Tegan, and Richard Mace track the Terrileptils to London in an effort to save humanity from extinction.