Last updated 02 January 2017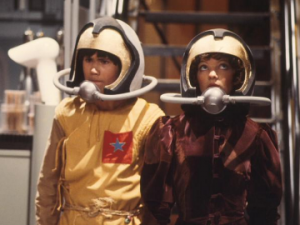 Broadcast: Saturday 22nd August 1998
11:30pm-12:00am EDT
(03:30 GMT)
«
»
WUSF
Featuring: Peter Davison, Janet Fielding, Sarah Sutton, Matthew Waterhouse, Stratford Johns, Annie Lambert, Philip Locke, Paul Shelley
The arrival of the TARDIS is observed by three Urbankans via their manopticon devices. Intrigued, they begin dividing the Doctor's friends, and disguising themselves as humans
Synopsis Source: Doctor Who Guide
Broadcast Source: TWIDW
Report from the This Week in Doctor Who Archive:
Friday 21st August 1998:
WUSF 16 in Tampa Bay, Florida
offers viewers episode 1 of
Four To Doomsday
Saturday night at 11:30PM, presumably without pledge drives. The 5th Doctor, Adric, Nyssa, and Tegan land on a spaceship approaching Earth. They are greeted with welcome arms, but something's not quite right. I mean, who ever heard of designing security cameras like eyeballs?