Last updated 02 January 2017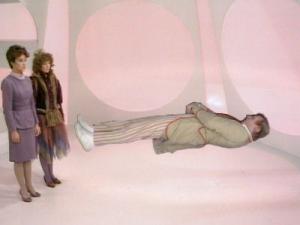 Broadcast: Saturday 25th July 1998
11:30pm-12:00am EDT
(03:30 GMT)
<
>
«
»
WUSF
Featuring: Peter Davison, Janet Fielding, Sarah Sutton, Matthew Waterhouse, Anthony Ainley
The Doctor tries to recuperate within the Zero Room, leaving Nyssa, Adric and Tegan to face the Master. Then Adric is taken and the TARDIS plunges towards Event One...
Synopsis Source: Doctor Who Guide
Broadcast Source: TWIDW
Report from the This Week in Doctor Who Archive:
Friday 24th July 1998:
It's the end, but the moment has not been well prepared for.
WUSF 16 in Tampa Bay, Florida
has switched to episode format! Instead of an 11PM movie, there will be one episode at
11:30PM
, following
Red Dwarf
. This week - they enter the
Peter Davison
years, with part one of
Castrovalva
. I wonder if they'll credit the change in format and time to post-regeneration trauma.