Last updated 02 January 2017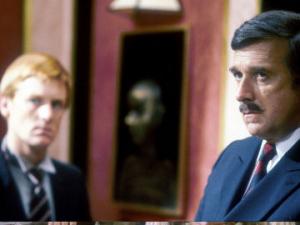 Broadcast: Saturday 17th October 1998
5:00pm-6:30pm EDT
(21:00 GMT)
<
>
«
»
WUFT
Featuring: Peter Davison, Nicholas Courtney, Janet Fielding, Mark Strickson, Sarah Sutton, Valentine Dyall
Caught in a warp ellipse, the TARDIS is drawn to a huge spacecraft orbiting Earth whereupon the Doctor is separated in space and time from Nyssa and Tegan.
Synopsis Source: Doctor Who Guide
Broadcast Source: TWIDW
Report from the This Week in Doctor Who Archive:
Friday 16th October 1998:
WUFT Gainesville, Florida
- channel 5
Saturday afternoon at 5PM - Mawdryn Undead - movie format
A confusion in time linking events in 1977 and 1983. Brigadier Lethbridge-Stewart suffering from a nervous breakdown. Creatures with Time Lord technology. And a dark figure wanting to get revenge on the 5th Doctor. Is your appetite whetted yet? I thought so. About 90 to 95 minutes. First part of a trilogy.