Last updated 02 January 2017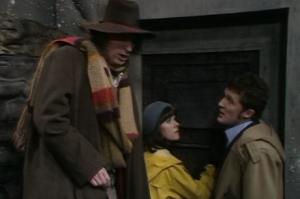 Broadcast: Saturday 10th October 1998
10:30pm-11:00pm EDT
(02:30 GMT)
<
>
«
»
WQED
Featuring: Tom Baker, Ian Marter, Elisabeth Sladen, Peter Miles, Michael Wisher
The Time Lords send the Doctor, Sarah and Harry to Skaro at a point in time shortly before the creation of the Daleks. The Doctor's mission is to destroy his greatest enemy.
Synopsis Source: Doctor Who Guide
Broadcast Source: TWIDW
Report from the This Week in Doctor Who Archive:
Friday 9th October 1998:
WQED / WQEX Pittsburgh, Pennsylvania
- channels 13, 16
Saturday night at 10:30PM - Genesis of the Daleks - episode 1 of 6
The 4th Doctor's efforts to return to the TARDIS are interrupted by the Time Lords, who want him to stop the Daleks from ever existing. WQED / WQEX often airs other special material with the episodes, like Howard DeSilva's 1978 introductions for US audiences.