Praxeus
(Season 12: Ep 6)
Last updated 05 February 2020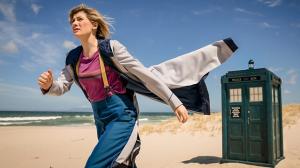 Broadcast: Sunday 2nd February 2020
8:00pm-9:10pm EST
(01:00 GMT)
<
>
«
»

<
>
«
»
BBC America
(adverts during broadcast)
Featuring: Jodie Whittaker, Tosin Cole, Mandip Gill, Bradley Walsh, Joana Borja, Matthew McNulty
What connects a missing astronaut in the Indian Ocean, birds behaving strangely in Peru and a US naval officer who washes up on a Madagascan beach? Team Tardis investigate.
Synopsis Source: Doctor Who Guide
Broadcast Source: BBC America
Ratings Information:
Consolidated figures:
0.464m viewers (evening), 0.13% audience share, 49th place - Nielsen - original cable shows by day, P18-49 %
Rankings are recorded by Nielson's Adult 18-49 score for original cable shows, indicating the percentage of the participating audience in that age category watching the programme. Praxeus achieved 0.13, placing it 49th overall in the chart; it was the highest rated programme on BBC America for the day, the only other show in the chart in the Top 150 being the movie Jack the Giant Slayer (103rd/0.05/233K). 464,000 viewers watched in total, making it the 67th most watched programme of the day.
Further Demographics: P18-49 0.13, F18-49 0.13, M18-49 0.13, P18-34 0.09, F12-34 0.07, M12-34 0.07, P25-54 0.17, P50+ 0.25
The highest rated shows on Sunday were unsurprisingly related to the Super Bowl, with the top three places taken up by ESPN's coverage during the day - NFL Primetime achieved 1.612m viewers with a 0.53 P18-49, the post-season countdown achieved 1.306m (0.48) and the midnight Sportscenter 1.378m (0.48). Apart from sport coverage the other highspots were taken by Animal Planet and the Food Network. Doctor Who was the 3rd ranked programme for the 8pm timeslot, with other programmes including the NFL Superbowl on Fox Deportes (5/0.31/757K average over 3.5 hours), Live PD Specials on A&E (46/0.13/337K), Identity Thief on TBS (58/0.11/293K), Puppy Bowl on Animal Planet (75/0.08/320K), Worst Cooks in America on Food Network (92/0.06/341K), American Pickers on History (131/0.03/423K) and Gospel 2020 on Black Entertainment TV (147/0.03/423K).
Taking into account the full week (Mon-Sun), the episode ranked 487th overall in the P18-49 rankings, and 614th in terms of total viewers. It remained the top programme for BBC America across the week, with other programmes making the chart including Seven Worlds, One Planet (879/Sat/0.05/371K), Jack The Giant Slayer (899/Sun/0.05/233K), X-Men First Class (926/Tue/0.05/148K), and several episodes of Deep Space Nine on Mon/Tues.
[source: Showbuzz Daily]