Praxeus
(6/10 Series 12)
Last updated 02 February 2022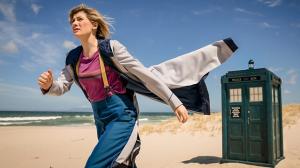 Visit Broadcast Link
Broadcast: Sunday 2nd February 2020
7:10pm-8:00pm GMT
<
>
«
»

<
>
«
»
(actually broadcast at 19:11:05)
BBC One
Featuring: Jodie Whittaker, Tosin Cole, Mandip Gill, Bradley Walsh, Joana Borja, Matthew McNulty
The gang try to make the connections between a missing astronaut, bird acting strangely in Peru and a US naval officer washed up on a Madagascan beach.
Synopsis Source: Radio Times
Broadcast Source: BBC
Ratings Information:
Initial figures:
3.970m viewers (overnight), 20.2% audience share, 4th place day, 45th place week
Consolidated figures:
5.223m viewers (+7 days), 23.5% audience share, 28th place - BARB Week (Four Screen), AI 78
Additional figures:
5.677m viewers (+28 days)
Overnights: Doctor Who was the fourth most popular show on British Television on Sunday. It was beaten by its ITV opposition, Dancing on Ice, which had 4.49 million viewers.Top for the day was Call the Midwife, with 6.15 million viewers. This week the lead into Doctor Who was Countryfile which had 5.07million watching. Meanwhile The BAFTA Film Awards had 3.03 million watching. The highest rated programme on ITV was Vera with 5.43 million viewers.Doctor Who was the 45th highest rated programme for the week on overnight figures.
BARB Reports
TV: Live: 2.817m; VOSDAL: +1.194m = 4.011 total (adjusted) [originally reported as 3.97m)
4 Screen +7 breakdown:
5,091,900(TV set), 63,343(PC/Laptop), 37,773(Tablet), 30,289(Smartphone); 4 Screen total 5,223,304
4 Screen +28 breakdown:
Initial: 5,509,600(TV set), 80,105(PC/Laptop), 47,077(Tablet), 40,334(Smartphone); 4 Screen total 5,677,116
Jan 2021: 5,509,600(TV set), 80,036(PC/Laptop), 47,052(Tablet), 40,334(Smartphone); 4 Screen total 5,677,022