Last updated 19 July 2018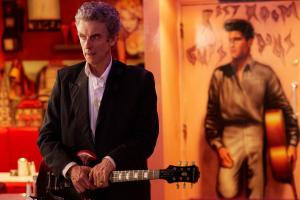 Broadcast: Thursday 19th July 2018
4:00pm-5:20pm EDT
(20:00 GMT)
<
>
«
»
BBC America
(adverts during broadcast)
Featuring: Peter Capaldi, Jenna Coleman, Ken Bones, Clare Higgins, T'Nia Miller, Donald Sumpter, Maisie Williams
Part 2. If you took everything from him, betrayed him, trapped him, and broke both his hearts, how far might the Doctor go? Returning to Gallifrey, the Doctor faces the Time Lords in a struggle that will take him to the end of time itself.
Synopsis Source: BBC America schedule
Originally listed as The Time of Angels (3-4pm), Flesh and Stone (4-5pm), and The Vampires of Venice (5-6pm).
Broadcast Source: BBC America