Last updated 10 July 2018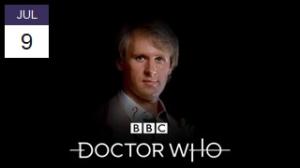 Visit Broadcast Link
Broadcast: Friday 13th July 2018
2:53am-9:20am EDT
(06:53 GMT)
«
»
Twitch
The classic Doctor Who stream on Twitch. Follow the adventures of the Time Lord from Gallifrey with more than 500 episodes of the sci-fi cult classic TV series.
Synopsis Source: Twitch
US time 23:53 PDT. Original schedule included The King's Demons, Warriors of the Deep, The Awakening, Frontios, Planet of Fire and The Caves of Androzani (though BBC schedules didn't include Planet of Fire) from 1:00pmm - the schedule was instead split up to include Friday as well.
Broadcast Source: Twitch