Last updated 27 May 2018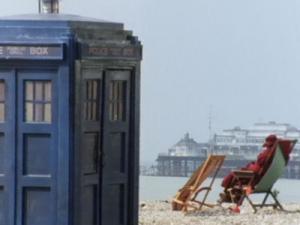 Broadcast: Saturday 26th May 2018
9:00pm-10:30pm AKDT
(05:00 GMT)
<
>
«
»
Alaska Public Television/KAKM
Featuring: Tom Baker, John Leeson, Lalla Ward, Adrienne Corri, David Haig, Nigel Lambert, Laurence Payne
Dr. Who and Romana visit the "Leisure Hive," a decaying resort on Argolis, where a coup d'etat is imminent. Tom Baker, Lalla Ward. Vargos: Martin Fisk. Pangol: David Haig. Mena: Adrienne Corri. Stimson: David Allister. Foamasi: Andrew Lane.
Synopsis Source: PBS TVSS Schedule
Pre-empted on 19th March by Royal Wedding Watch.
Broadcast Source: Alaska Public Television schedules