Last updated 02 December 2017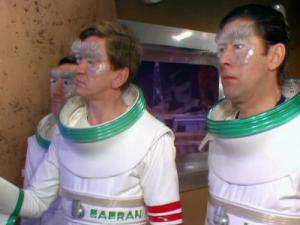 Visit Broadcast Link
Broadcast: Saturday 2nd December 2017
10:30pm-11:57pm CST
(04:30 GMT)
<
>
«
»
Iowa Public TV
Featuring: Tom Baker, Louise Jameson, John Leeson, Michael Sheard
The TARDIS is infiltrated by the Swarm a space borne intelligence that wishes to spread itself across the universe and the Doctor is infected by its nucleus. The ship then materialises on Titan, one of the moons of Saturn, where the human occupants of a refuelling station have also been taken over.
Synopsis Source: IPTV website TV listing
---
Broadcast notes:
Pre-empted on 18th November by The 60s Generation and on 25th November by Great Performances: "Moody Blues: Days of Future Passed Live".
Broadcast Source: IPTV