Last updated 08 July 2017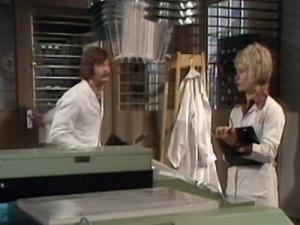 Visit Broadcast Link
Broadcast: Saturday 8th July 2017
11:00pm-11:46pm CDT
(04:00 GMT)
<
>
«
»
WMVS/MPTV (Milwaukee) HD 10.1/36.2
Featuring: Jon Pertwee, Nicholas Courtney, Katy Manning, Ian Collier, Roger Delgado, Richard Franklin, John Levene, Wanda Moore
A mysterious Professor Thascales invites UNIT to a demonstration of his new TOMTIT (Transmission Of Matter Through Interstitial Time) machine. The Doctor quickly discovers that the Professor is not who he seems to be. Compiles episodes 21 and 22 from "Doctor Who" series 9.
Synopsis Source: MPTV website schedule listing
---
Broadcast notes:
Description was wrong, the programme is episodes 15 and 16 of the series.
Broadcast Source: MPTV