Smile
(Season 10: Ep 2)
Last updated 22 May 2017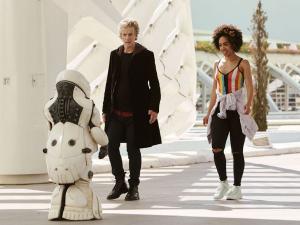 Broadcast: Saturday 22nd April 2017
9:00pm-10:05pm EDT
(01:00 GMT)
<
>
«
»

<
>
«
»
BBC America
(adverts during broadcast)
Featuring: Peter Capaldi, Matt Lucas, Pearl Mackie, Ralf Little
The language of the future is emoji! The Doctor takes Bill to a spectacular city on a distant planet, but where are the colonists? A band of "cute" droids hold the deadly answer.
Synopsis Source: BBC America website schedule listing
It was reported that the end credits of the premiere were removed in favour of starting Class immediately.
Broadcast Source: BBC America
Ratings Information:
Consolidated figures:
0.778m viewers (evening), 14th place - Nielsen - original cable shows by day, P18-49 %
The episode achieved 778,000 viewers (0.26 18-49), which placed it 14th in the cable chart for original shows (27th with ties) [source: Showbuzz Daily / TV Recaps ]
Demographics: P18-49 0.26, F18-49 0.23, M18-49 0.28, P18-34 0.17, F12-34 0.16, M12-34 0.14, P25-54 0.30, P50+ 0.36