Smile
(2/12 Series 10)
Last updated 29 December 2018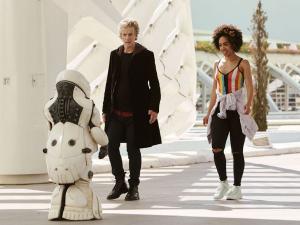 Visit Broadcast Link
Broadcast: Saturday 22nd April 2017
7:20pm-8:10pm BST
(18:20 GMT)
«
»

«
»
(actually broadcast at 19:21:55)
BBC One
Featuring: Peter Capaldi, Matt Lucas, Pearl Mackie, Ralf Little
The Doctor takes Bill to a spectacular city on a distant planet - but where are the human colonists? In seeking to solve the mystery the pair find that a band of "cute" droids holds the deadly answer.
Synopsis Source: Radio Times
Broadcast Source: BBC
Ratings Information:
Initial figures:
4.250m viewers (overnight), 22.9% audience share (4th place day)
Consolidated figures:
5.979m viewers (+7 days), 28.5% audience share (23rd place, BARB Week Top 30 Chart), AI 83
Additional figures:
6.447m viewers (+28 days) (18th place)
Overnights: Top for the day was the ITV show Britain's Got Talent, with 9.21 million watching, a massive 44% of the total audience. The remainder of the evening was dominated by BBC One with All Round to Mrs Brown's getting 5.03 million. The FA Cup averaged around 5 million viewers pushing Doctor Who into fourth place for the day. [source: Doctor Who News]
7 Day Consolidated: Top for the week was incoming showrunner Chris Chibnall's Broadchurch, starring David Tennant, which beat ITV's Britain's Got Talent, to take the top place with 11.61 million watching. Unlike last week , Doctor Who sliped behind the soaps EastEnders and Emmerdale as well as Coronation Street. Doctor Who remained the top BBC One programme for Saturday night, just ahead of the entertainment show All Round to Mrs Brown's [source: Doctor Who News]
28 Day: the +28 figure added another 470,000 viewers, which moved it into 18th place in the Top 30 chart, and overtaking an episode of Eastenders to become 7th most watched programme on BBC1 for the week.
BARB Reports
TV: Live: 3.00m; VOSDAL: 1.25m (total 4.25m); Timeshift+7: 2.98m (5.98m total); Timeshift+28: 0.47m (6.45m total)
BARB TV Player reports: 137188/17th (w/e 23 Apr 17), 118501/20th (w/e 30 Apr 2017), 37546/97th (w/e 7 May 2017)
Notes
DRAMA Frank Cottrell-Boyce is a name to make one's antennae twitch. An award-winning author, he's a long-time colleague of Danny Boyle and wrote the inspiring 2012 Olympics Opening Ceremony. His previous Who in 2014 saw our planet blanketed overnight by forest, in a barmy but poetic fable paying homage to William Blake. It was not a resounding success.
For his second twirl of the Tardis, he's consorted with rather more reliable visionaries, science experts with concerns about artificial intelligence, and has predicted a future that isn't as utopian as it first seems. Smile is set on a colony world whose settlers "have cracked the secret of human happiness". Only there's no sign of any people when the Time Lord and Bill explore the pristine architecture (in reality, Valencia's ultra-modern City of Arts and Sciences).
Lethal microbots (Vardies) swarm in the sky and dinky robots with emoji faces patrol the walkways - and woe betide you if don't smiley-face back. Science has failed this civilisation and the new world has become a death trap. Smile reads like a cautionary tale, is packed with clever ideas and beautiful vistas, yet it lacks energy and, ultimately, is less
and more
.
Credit: Radio Times (p50)