Last updated 29 December 2018
Visit Broadcast Link
Broadcast: Saturday 15th April 2017
7:20pm-8:10pm BST
(18:20 GMT)
<
>
«
»

<
>
«
»
(actually broadcast at 19:21:00)
BBC One
Featuring: Peter Capaldi, Matt Lucas, Pearl Mackie
The peacekeeping Time Lord returns in what is Peter Capaldi's last series as the Doctor, an Pearl Mackie's first as his new companion.
Two worlds collide when the Doctor meets Bill Potts. An encounter with a girl with a star in her eye leads to a terrifying chase across a universe bigger and more exciting than Bill ever imagined. But who is the Doctor and what is his mission on Earth?
Synopsis Source: Radio Times
Broadcast Source: BBC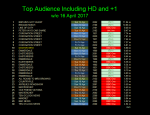 Ratings Information:
Initial figures:
4.640m viewers (overnight), 24.8% audience share
Consolidated figures:
6.682m viewers (+7 days), 30.6% audience share, 10th place - BARB Week Top 30 Chart, AI 83
Additional figures:
7.243m viewers (+28 days) (9th place)
Online player figures:
1.20m requests as of 30th April 2017
Overnights: Saturday's top show was Britain's Got Talent on ITV which had 8.65 million watching.Doctor Who was BBC One's second highest rated show for the evening, just behind All Round to Mrs Brown's which had 4.67 million. It just beat Pointless Celebrities which had 4.34 million watching. Casualty had 3.48 million. [source: Doctor Who News]
7 Day Consolidated: Doctor Who is the tenth most watched programme for the week, the highest chart position for a non-Christmas episode since Listen in 2014.Top for the week was ITV's Britain's Got Talent, which had 11.04 million viewers. Incoming showrunner Chris Chibnall's Broadchurch, starring David Tennant, was 2nd for the week. [source: Doctor Who News]
BARB Reports
TV: Live: 3.26m; VOSDAL: 1.38m (total 4.64m); Timeshift+7: 3.42m (6.68m total); Timeshift+28: 0.56m (7.24m total)
BARB TV Player reports: 124196/17th (w/e 16 Apr 17), 150969/14th (w/e 23 Apr 17), 42000/87th (w/e 30 Apr 17)
BBC iPlayer reports
iPlayer requests in April: 1.196m
The BBC released details on BBC iPlayer performace for April on the 19th May, which indicated that The Pilot was the 10th most requested episode in that month and the third best performing series episode at 1.196m. The only shows performing better were Peter Kay's Car Share and Line of Duty.
Notes
DRAMA Bill Potts, the Doctor will see you now, it feels like an aeon since we've been able to enjoy the whole "new companion" shtick: What's a Tardis? Are you an alien? This time not "Doctor who?" but "Doctor what?" and, crucially for all novice adventurers with loosened bowels, is there a toilet in the Tardis?
Cunningly titled The Pilot, Steven Moffat's series-ten opener is geared up as a fresh start, a jumping-on point for Bill and new viewers, requiring little or no foreknowledge of Who lore. Pearl Mackie is quirky and instantly winning as campus canteen worker Bill, whose thirst for knowledge means she steals into the Doctor's lectures. For his final series, Peter Capaldi's majestic Time Lord has taken rooms at St Paul's University, Bristol, with his police box resting invitingly in the corner of his study.
Snappily directed by Lawrence Gough The Pilot has eerie moments, a menacing puddle, love in the midst of a war zone, comic asides from Matt Lucas as the Doctor's dippy batman, Nardole - and blasts of Beethoven an Joy Division on the soundtrack.