Last updated 18 March 2017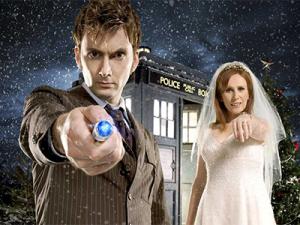 Broadcast: Saturday 4th September 2010
11:00pm-12:01am EDT
(03:00 GMT)
<
>
«
»
West Virginia Public Broadcasting
Featuring: David Tennant, Catherine Tate, Sarah Parish
Broadcast Source: West Virginia Public Broadcasting
Report from the This Week in Doctor Who Archive:
Saturday 28th August 2010:
West Virginia Public Broadcasting
http://www.wvpubcast.org
Series 2008 -1st Cycle:
28 August 11PM EDT 2008-13 Journey's End pt 2 of 2

4 September 11PM EDT 2006-Xmas The Runaway Bride 61 minutes, start of Series 2007 2nd Cycle, end of run?
11 September - pre-empted?
WVPBS has aired Series 2007 one time.