Last updated 15 April 2017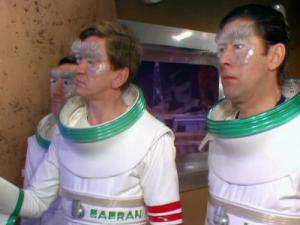 Visit Broadcast Link
Broadcast: Saturday 15th April 2017
11:00pm-12:30am EDT
(03:00 GMT)
<
>
«
»
West Virginia Public Broadcasting
Featuring: Tom Baker, Louise Jameson, John Leeson, Michael Sheard
The TARDIS is infiltrated by the Swarm - a space-borne intelligence that wishes to spread itself across the universe - and the Doctor is infected by its nucleus. The ship then materialises on Titan, one of the moons of Saturn, where the human occupants of a refuelling station have also been taken over.
Synopsis Source: WVPB website schedule listing
---
Broadcast notes:
Originally scheduled for the 8th April, but was pre-empted by Wv Legislature Final Hours of 2017 Session.
Broadcast Source: West Virginia Public Broadcasting