Last updated 12 March 2017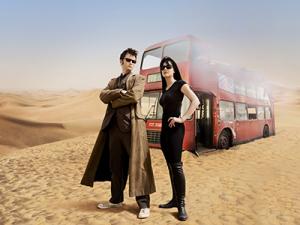 Visit Broadcast Link
Broadcast: Saturday 17th July 2010
11:00pm-12:00am MDT
(05:00 GMT)
<
>
«
»

<
>
«
»
Idaho Public Television
Featuring: David Tennant, Noma Dumezweni, Lee Evans, Michelle Ryan
Lady Christina de Souza (Michelle Ryan) boards a London bus, escaping from the police after stealing a priceless gold goblet. The Doctor, who is on a quest to trace rhondium particles, sits down beside her. The bus detours through a wormhole to the desert world of San Helios where they encounter a crashed spaceship inhabited by the insectoid Tritovores, a swarm of voracious metallic and airborne stingray-like scavenger creatures.
Synopsis Source: Idaho PBS website schedule listing
Broadcast Source: Idaho Public Television
Report from the This Week in Doctor Who Archive:
Saturday 17th July 2010:
Idaho Public TV
http://idahoptv.org
The 2009 Specials - 1st Cycle:
17 July 11PM,
21 August 11PM MDT/PDT
2009-01 Planet of the Dead

24 July 11PM, 28 August 11PM MDT/PDT 2009-02 The Waters of Mars
31 July 11PM, 4 September 11PM MDT/PDT 2009-03 The End Of Time, Part One
7 August 11PM, 11 September 11PM MDT/PDT 2009-04 The End Of Time, Part Two
14 August 11PM MDT/PDT 2008-Xmas The Next Doctor
Idaho Public TV has aired Series 2008 two times.