Last updated 09 March 2017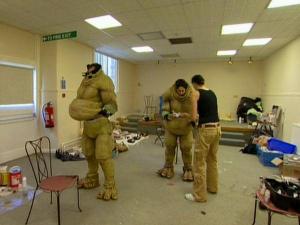 Broadcast: Thursday 16th August 2007
10:45pm-11:00pm CDT
(03:45 GMT)
<
>
«
»
NET Nebraska
Featuring: Simon Pegg, Annette Badland, Colin Baker, David Bowman, Noel Clarke, Will Cohen, Andrew Collins, Nicholas Courtney, Russell T Davies, Peter Davison, Christopher Eccleston, Elizabeth Fost, Richard Franklin, Katy Manning, Sylvester McCoy, Alan Ruscoe
This episode goes behind the scenes of World War Three
Simon Pegg narrates a behind-the-scenes look at Doctor Who, following the production team, writers and cast as they bring the Time Lord back to the screen. A look at the Doctor's affinity with the human race and his ongoing battle to save the earth.
Synopsis Source: Doctor Who Guide
Broadcast Source: TWiDW
Report from the This Week in Doctor Who Archive:
Saturday 11th August 2007:
NET Nebraska
http://netnebraska.org
analog 12,29,3,7,9,12,13,19,26 digital .1
Omaha DirecTV 26
Omaha Dish 26,9147
Lincoln DirecTV 29
Lincoln Dish 12,7556
Sioux City, IA Dish 27,7195
Thursday 10PM CDT 1-05 World War Three pt 2 of 2
Thursday 10:45PM CDT DWC 1-05 Why on Earth?
23 August 10PM CDT 1-06 Dalek
23 August 10:45PM CDT DWC 1-06 The Daleks