Last updated 19 February 2017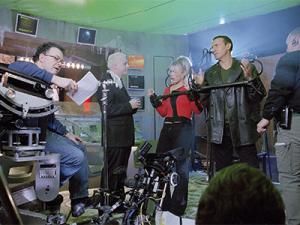 Broadcast: Sunday 6th April 2008
12:45am EDT
(04:45 GMT)
«
»
MPT Maryland
Featuring: Simon Pegg, Will Cohen, Russell T Davies, Christopher Eccleston, Brian Grant, Dave Houghton, Corey Johnson, Simon Pegg, Billie Piper
This episode goes behind the scenes of The Long Game

Simon Pegg narrates a behind-the-scenes look at Doctor Who, following the production team, writers and cast as they bring the Time Lord back to the screen. Pegg himself plays the latest incarnation of evil to face the Doctor.
Synopsis Source: Doctor Who Guide
Broadcast Source: TWIDW
Report from the This Week in Doctor Who Archive:
Saturday 5th April 2008:
MPT Maryland
http://www.mpt.org
analog 22, 67, 31, 28, 62, 36 digital .1
DC/Hagerstown, Baltimore DirecTV 22,973
Baltimore Dish 22,8736
Baltimore DirecTV HD in 2008?
Series 1 - 2nd Cycle:
Late Saturday Midnight EDT 1-07 The Long Game
Late Saturday 12:45AM EDT DWC 1-07 The Dark Side
Late 12 April Midnight EDT 1-08 Father's Day
Late 12 April 12:45AM EDT DWC 1-08 Time Trouble
Late 19 April Midnight EDT 1-09 The Empty Child pt 1 of 2
Late 19 April 12:45AM EDT DWC 1-09 FX
Late 26 April Midnight EDT 1-10 The Doctor Dances pt 2 of 2
Late 26 April 12:45AM EDT DWC 1-10 Weird Science Of Doctor Who
Also has rights to

Classic Who

.

Classic Doctor Who

expected back when New Series is rested. The April printed program guide from MPT is using the schedule information from before their decision to pre-empt

Doctor Who

on 15 March, so everything there is off by one week.