Last updated 19 February 2017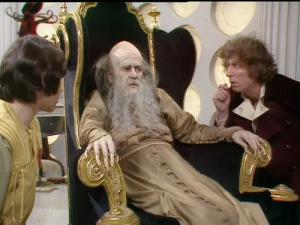 Broadcast: Sunday 9th September 2007
12:00am-1:30am EDT
(04:00 GMT)
<
>
«
»
MPT Maryland
Featuring: Tom Baker, Sarah Sutton, Matthew Waterhouse, Anthony Ainley, Geoffrey Beevers
The Keeper of Traken is nearing the end of his long reign. Fearing a terrible evil is about to threaten the peace and harmony of his world, he requests the Doctor's help.
Synopsis Source: Doctor Who Guide
Broadcast Source: TWIDW
Report from the This Week in Doctor Who Archive:
Saturday 8th September 2007:
MPT Maryland
http://www.mpt.org
analog 22, 67, 31, 28, 62, 36 digital .1
DC/Hagerstown, Baltimore DirecTV 22,973
Baltimore Dish 22,8736
Late Saturday Midnight-1:30AM EDT The Keeper of Traken movie
Classic Season 18, Episodes 21 through 24. Doctor:
Tom Baker
.
Alert - some listings and recording devices are listing this episode as an untitled 90 minute Tenth Doctor/Martha episode. If you have a season pass or other special programming to record the episodes, you may have to program this one manually.
15 September - pre-empted by pledge drive.
Late 22 September Midnight-1:35AM EDT Logopolis movie
29 September - pre-empted by marathon encore of the first week of Ken Burns'

The War

. Theoretically we should expect the same to happen on the 6th of October. Either the Peter Davison episodes or a rerun of the Eccleston episodes will likely start on the 13th of October.
MPT Maryland has the right to air Series 1 another 3 times before February 28, 2009.