Last updated 19 February 2017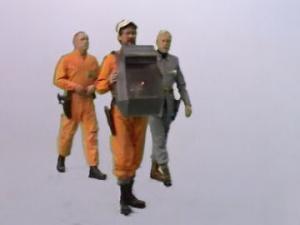 Broadcast: Sunday 2nd September 2007
12:00am-1:30am EDT
(04:00 GMT)
«
»
MPT Maryland
Featuring: Tom Baker, John Leeson, Lalla Ward, Matthew Waterhouse, Clifford Rose
The TARDIS is drawn into an empty white void, somewhere between universes. But they are not the only ones trapped there.
Synopsis Source: Doctor Who Guide
Broadcast Source: TWIDW
Report from the This Week in Doctor Who Archive:
Saturday 1st September 2007:
MPT Maryland
http://www.mpt.org
analog 22, 67, 31, 28, 62, 36 digital .1
DC/Hagerstown, Baltimore DirecTV 22,973
Baltimore Dish 22,8736
Late Saturday Midnight-1:30AM EDT Warriors' Gate movie
Classic Season 18, Episodes 17 through 20. Doctor:
Tom Baker
.
Alert - some listings and recording devices are listing this episode as State of Decay. It will be the same ones that thought a Tenth Doctor/Martha episode was airing last week when State of Decay was scheduled and did air.
Late 8 September Midnight-1:30AM EDT The Keeper of Traken movie
Alert - some listings and recording devices are listing this episode as an untitled 90 minute Tenth Doctor/Martha episode. If you have a season pass or other special programming to record the episodes, you may have to program this one manually.
15 September - pre-empted by pledge drive.
Late 22 September Midnight-1:35AM EDT Logopolis movie
29 September - pre-empted by marathon encore of the first week of Ken Burns'

The War

. Theoretically we should expect the same to happen on the 6th of October. Either the Peter Davison episodes or a rerun of the Eccleston episodes will likely start on the 13th of October.
MPT Maryland has the right to air Series 1 another 3 times before February 28, 2009.