Last updated 19 February 2017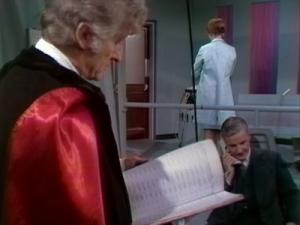 Broadcast: Sunday 10th July 2005
12:00am-2:35am EDT
(04:00 GMT)
<
>
«
»
MPT Maryland
Featuring: Jon Pertwee, Nicholas Courtney, Caroline John, Fulton Mackay, Peter Miles
UNIT are summoned to Wenley Moor research station which is experiencing mysterious power losses. In the nearby caves, one of the staff has been killed and another sent insane.
Synopsis Source: Doctor Who Guide
Broadcast Source: TWIDW
Report from the This Week in Doctor Who Archive:
Wednesday 6th July 2005:
MPT Maryland
http://www.mpt.org
analog 22, 67, 31, 28, 62, 36
digital 22-2 (42-2), 67-2 (29-2), 31-2 (44-2), 28-2 (56-2), 62-2 (28-2), 36-2 (54-2)
DC/Hagerstown, Baltimore DirecTV 22,980
Baltimore Dish 22,8736
Late Saturday Midnight-2:35AM EDT Doctor Who And The Silurians movie
Season 7, Episodes 5 through 11. Doctor:
Jon Pertwee
.
A nuclear power planet built into caves suffers from odd power outages and personnel having nervous breakdowns. Suspicious, U*N*I*T investigates, headed by Brigadier Lethbridge-Stewart, Doctor "John Smith", and Liz Shaw. Doctor Smith begins to suspect that prehistoric creatures live in the caves. The others are suspicious, until more evidence emerges.
16 July The Ambassadors of Death
23 July Inferno
30 July Terror of the Autons