Last updated 19 February 2017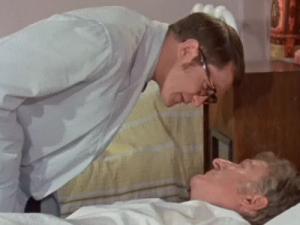 Broadcast: Sunday 3rd July 2005
12:00am-1:32am EDT
(04:00 GMT)
<
>
«
»
MPT Maryland
Featuring: Jon Pertwee, Nicholas Courtney, Caroline John, Hugh Burden
The TARDIS takes the newly regenerated Doctor to Earth to begin his exile. Brigadier Lethbridge-Stewart leads a UNIT investigation into a mysterious meteorite shower.
Synopsis Source: Doctor Who Guide
Broadcast Source: TWIDW
Report from the This Week in Doctor Who Archive:
Wednesday 29th June 2005:
MPT Maryland
http://www.mpt.org
analog 22, 67, 31, 28, 62, 36
digital 22-2 (42-2), 67-2 (29-2), 31-2 (44-2), 28-2 (56-2), 62-2 (28-2), 36-2 (54-2)
DC/Hagerstown, Baltimore DirecTV 22,980
Baltimore Dish 22,8736
Late Saturday Midnight-1:32AM EDT Spearhead From Space movie
Season 7, Episodes 1 through 4. Doctor:
Jon Pertwee
.
First color story. Brigadier Lethbridge-Stewart and new scientific advisor Liz Shaw find their investigation of meteorites interrupted when a familiar Police Telephone Box lands in the middle of nowhere. The man who comes out of the box doesn't look familiar to the Brigadier at all, but claims to be the Doctor.
9 July Doctor Who And The Silurians
16 July The Ambassadors of Death
23 July Inferno
30 July Terror of the Autons