Last updated 19 February 2017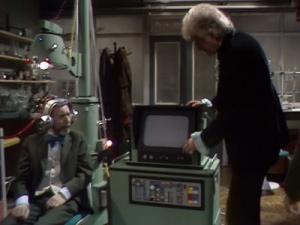 Broadcast: Sunday 10th April 2005
12:00am-2:20am EDT
(04:00 GMT)
<
>
«
»
MPT Maryland
Featuring: Jon Pertwee, Nicholas Courtney, Elisabeth Sladen, John Dearth, Richard Franklin, John Kane, John Levene
The Doctor receives a mysterious package from his old companion, Jo Grant. Sarah joins Mike Yates to investigate sinister events at a Buddhist meditation centre.
Synopsis Source: Doctor Who Guide
Broadcast Source: TWIDW
Report from the This Week in Doctor Who Archive:
Wednesday 6th April 2005:
MPT Maryland
http://www.mpt.org
analog 22, 67, 31, 28, 62, 36
digital 22-2 (42-2), 67-2 (29-2), 31-2 (44-2), 28-2 (56-2), 62-2 (28-2), 36-2 (54-2)
DC/Hagerstown, Baltimore DirecTV 22,980
Baltimore Dish 22,8736
Late Saturday Midnight-2:20AM EDT Planet of the Spiders movie
Season 11, Episodes 21 through 26. Doctor:
Jon Pertwee
.
In a previous adventure, the Doctor took a crystal from Metebelis III. Alas, the spiders of Metebelis III want it back for their own dark purposes. And anyone who gets in their way will be killed.
16 April The Ribos Operation (12:05AM)
23 April The Pirate Planet (12:05AM)