Last updated 19 February 2017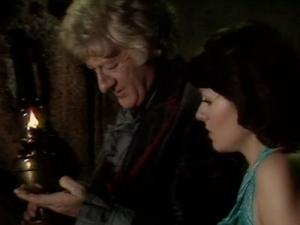 Broadcast: Sunday 29th August 2004
12:00am EDT
(04:00 GMT)
<
>
«
»
MPT Maryland
Featuring: Jon Pertwee, Elisabeth Sladen, Julian Fox, Joy Harrison, Duncan Lamont
The TARDIS suffers a power drain and is forced down on the planet Exxilon. Sarah is captured by the primitive inhabitants and the Doctor comes face to face with his oldest enemies.
Synopsis Source: Doctor Who Guide
Broadcast Source: TWIDW
Report from the This Week in Doctor Who Archive:
Wednesday 25th August 2004:
MPT Maryland
http://www.mpt.org
analog 22, 67, 31, 28, 62, 36
digital 22-2 (42-2), 67-2 (29-2), 31-2 (44-2), 28-2 (56-2),
28, 54
DC/Hagerstown, Baltimore DirecTV 22,980
Baltimore Dish 22,8736
Late Saturday Mid EDT Death to the Daleks movie
Series 11, Episodes 11 through 14. Doctor:
Jon Pertwee
.
The TARDIS, humans, and the Daleks all get stranded on a planet where power doesn't corrupt - it drains away. Absolute power drains away absolutely. Mortal enemies join forces searching for a way to escape Exxilon before it is too late.