Last updated 19 February 2017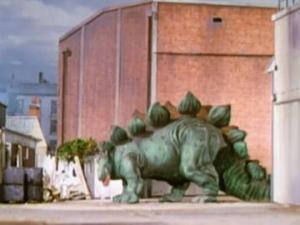 Broadcast: Sunday 22nd August 2004
12:00am EDT
(04:00 GMT)
<
>
«
»
MPT Maryland
Featuring: Jon Pertwee, Nicholas Courtney, Elisabeth Sladen, Richard Franklin, Martin Jarvis, John Levene, Peter Miles
The Doctor plans to capture a dinosaur so he can discover who is transporting them through time. But Mike Yates is in league with the enemy and is ordered to stop the Doctor.
Synopsis Source: Doctor Who Guide
Episode 1 skipped as was only in black and white.
Broadcast Source: TWIDW
Report from the This Week in Doctor Who Archive:
Wednesday 18th August 2004:
MPT Maryland
http://www.mpt.org
analog 22, 67, 31, 28, 62, 36
digital 22-2 (42-2), 67-2 (29-2), 31-2 (44-2), 28-2 (56-2),
28, 54
DC/Hagerstown, Baltimore DirecTV 22,980
Baltimore Dish 22,8736
Late Saturday Mid EDT Invasion of the Dinosaurs movie
Series 11, Episodes 6 through 10. Doctor:
Jon Pertwee
.
Part 1 (episode 5 of the season) only survives in black & white, and is not included in the movie version.
The 3rd Doctor and Sarah help U*N*I*T track down the organization that is bringing Dinosaurs to Downtown London for nefarious purposes. Suspicions mount that someone is a traitor. Somehow, the Doctor once again winds up prime suspect.