Last updated 02 January 2017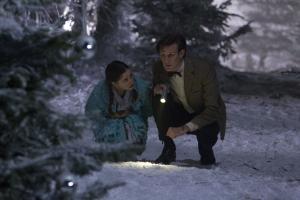 Visit Broadcast Link
Broadcast: Sunday 25th December 2011
7:00pm-8:00pm GMT
<
>
«
»

<
>
«
»
(actually broadcast at 18:59:50)
BBC One
Featuring: Matt Smith, Alexander Armstrong, Bill Bailey, Paul Bazely, Claire Skinner, Arabella Weir
Broadcast Source: BBC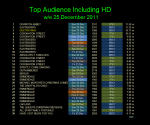 Ratings Information:
Initial figures:
8.900m viewers (overnight), 34.2% audience share, 3rd place day, 3rd place week
Consolidated figures:
10.770m viewers (+7 days), 37.3% audience share, 3rd place, AI 84
Online player figures:
0.93m requests as of 21st May 2013
Initials: the episode was the third most watched programme of the day, with
EastEnders
top with 9.9m and
Coronation Street
second with 9.0m.
Downton Abbey
was fourth with 8.1m viewers. Against
Doctor Who
,
All Star Family Fortunes
managed 6.1m viewers.
Finals: ITV1's
Downton Abbey
became the most watched programme of Christmas Day with 11.60m watching.
EastEnders
was second with 11.33m and
Doctor Who
came in third.
Coronation Street
was the 4th most watched programme of the day. Christmas Day dominated the ratings for the week, making Doctor Who the 3rd most watched programme for the week (second highest on BBC1)
Live+7 ratings: 11.28m (LIVE+VOSDAL:7.49m, Narrative Repeat: 0.86m, Time-Shift: 2.33m, iPlayer: 0.60m)
iPlayer: listed for 11 days, had 700,000 requests within five days, 874,169 requests in the first week.