Last updated 02 January 2017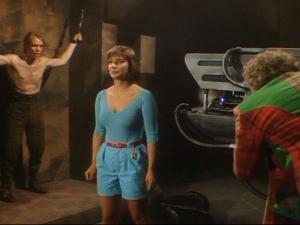 Broadcast: Sunday 25th November 2001
9:10am-11:00am GMT
<
>
«
»
UKTV Gold
(adverts during broadcast)
Featuring: Colin Baker, Nicola Bryant, Forbes Collins, Jason Connery, Martin Jarvis, Nabil Shaban
Needing Zeiton 7 ore urgently for the TARDIS, the Doctor takes Peri to Varos. They quickly become part of the sadistic programming that entertains the populace.
Synopsis Source: Doctor Who Guide
Broadcast Source: TWiDW
Report from the This Week in Doctor Who Archive:
Wednesday 21st November 2001:
UK Gold
http://www.sceneone.co.uk/s1/tv/listings
Sat 9-11AM GMT Attack of the Cybermen movie
An alien distress call brings the TARDIS to Earth in 1985, where an old foe who the Doctor barely met before (Commander Lytton) appears to have teamed up with the Cybermen. The Cybermen want to alter history and destroy the Earth. Something doesn't add up in the equation, and Lytton holds the key to understand what on the Milky Way is going on.
Sun 9:10-11AM GMT Vengeance on Varos movie
The TARDIS runs out of Zeiton-7, a critical mineral that enables it to operate. In search of a replacement supply, the 6th Doctor and Peri stumble across the planet Varos, where the citizens live in constant fear and torture is common, and the leadership lives in constant fear of the citizens. Lots of special effects in this gruesome but gripping installment of the series.