Last updated 27 January 2017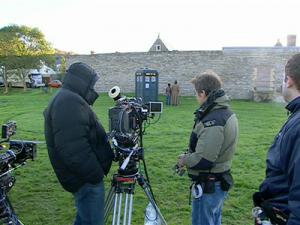 Broadcast: Saturday 7th August 2010
11:47pm-12:00am CDT
(04:47 GMT)
<
>
«
»
WMVS/MPTV (Milwaukee) HD 10.1/36.2
Featuring: Phil Collinson, Russell T Davies, Danny Hargreaves, Anthony Head, Dave Houghton, James Strong, David Tennant
This episode goes behind the scenes of Evolution of the Daleks

Behind-the-scenes look at the making of Doctor Who. There's a trip to to Manhattan to find out how to recreate 1930s New York in the heart of south Wales. The producer and director of episodes four and five visit the New York locations they plan to reproduce and the visual effects supervisor shows what they need to make Manhattan in Cardiff.
Synopsis Source: Doctor Who Guide
Broadcast Source: TWIDW
Report from the This Week in Doctor Who Archive:
Sunday 8th August 2010:
Milwaukee Public TV
10.1
http://www.mptv.org
Series 2007 - 3rd Cycle:
7 August 11PM CDT 2007-05 Evolution of the Daleks pt 2 of 2
7 August 11:47PM CDT DWC 305 Making Manhattan
14 and 21 August - pre-empted by pledge specials
28 August 11PM CDT 2007-06 The Lazarus Experiment
28 August 11:45PM CDT DWC 306 Monsters Inc
(expect the tentative September schedule to appear in the next column)
Milwaukee Public TV has the rights to air Series 2008 three more times.
Beginning 1 September, a 4:3 simulcast of this channel (including

Doctor Who

) will air on Milwaukee Public TV 36.2, as subchannels are moved around on the Milwaukee Public TV network. If you're watching over the air, prepare to do a rescan of your stations (or if you have DirecTV's AM21 box, to get all kids out of the way before letting off some swears).